Landscaping Pavers Buyers Guide for 2022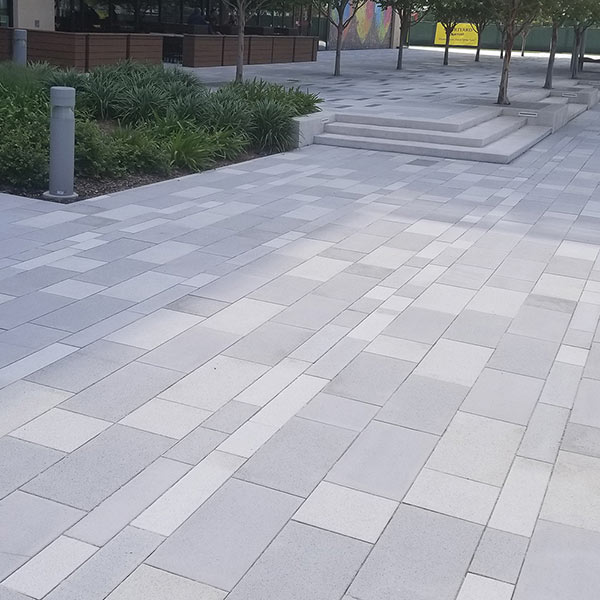 Pavers, flagstone and concrete are all popular choices for clients when it comes to improving their landscaping. Creating a pleasant outdoor environment for gatherings is the objective, but picking something that will endure is just as crucial.
As a professional, you want to offer your clients solutions that are beautiful, durable and varied. This article will discuss the benefits of concrete architectural pavers.
Using Pavers for Landscaping
History of Pavers
The use of stone pavers for walkways and roads dates back to the time of the Minoans. Move forward 3,000 years, and the Romans made their roads using the technique of laying cut rock on a bed of compacted earth. Some of those roads are still in existence today. This system has seen very little change over the millennia.
Europe had been using pavers extensively for their road systems since the end of World War II, but the idea had not caught on in America. In the 1970s, the idea for driveways, walkways and patios made from stone pavers was brought to North America by a tradesman from Zurich, and the rest is history.
Why Pavers Are Better for Landscaping
If you're considering using poured concrete, take into account the following:
Pavers are more durable and stronger than typical poured concrete slabs. The molds that form them contain natural materials in a far tighter packing. They are also better able to expand and compress throughout the year to avoid weather-induced cracking.
Shifting ground may require expensive repairs and will never return to its original condition. When this happens with pavers, you can level the ground below before they are replaced.
Concrete takes from three to five days to fully cure. Once pavers are in place, they can be used immediately.
Using treated wood landscaping timbers also presents some long-term concerns:
If not treated, it is susceptible to decay.
The use of conventional dimensions restricts the design possibilities.
It is not readily available.
Why Do Some Pavers Fall Apart?
The mix design is key in creating a paver that will stand the test of time. Buying pavers from a proven manufacturer is key to ensuring your project lasts.
The amount of cement used in the mix design will greatly impact the strength and durability of the paver.
The aggregate and aggregate sizing will also play a key role in how long your pavers will last.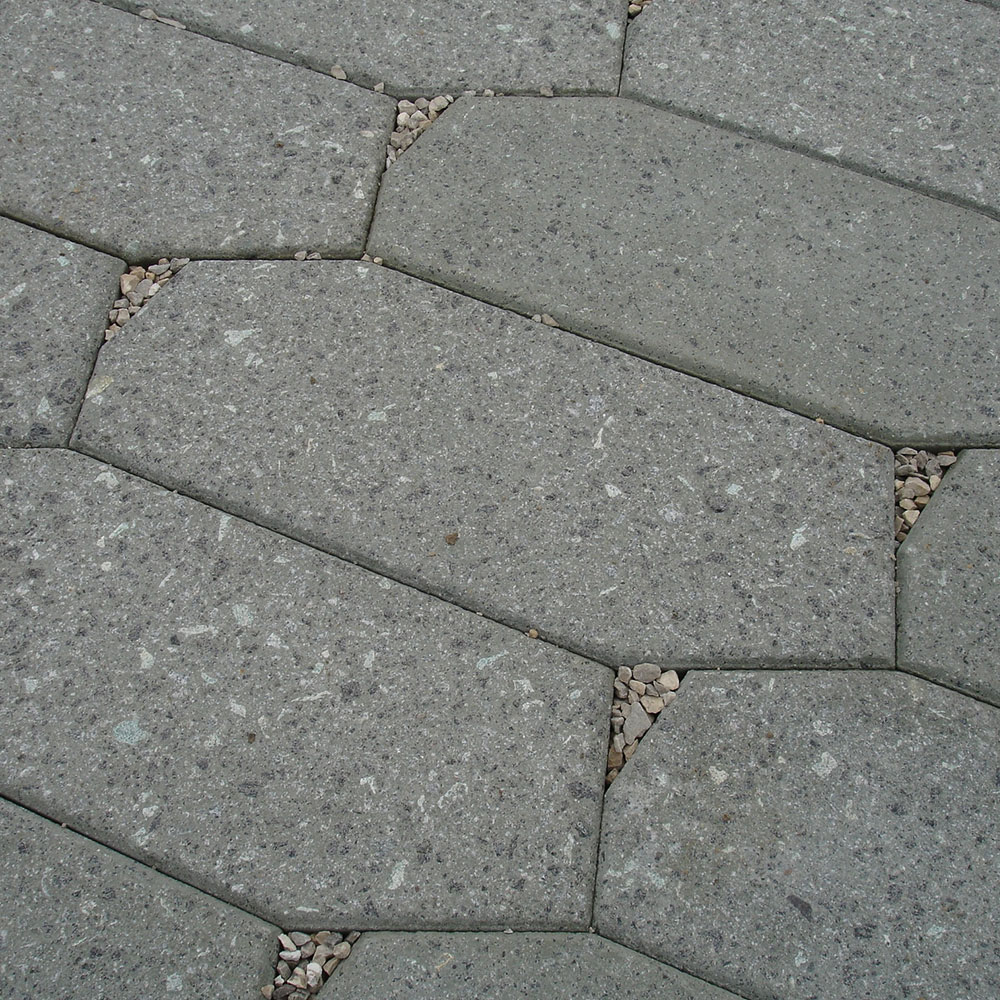 Types of Pavers
Landscaping walkways have been made from natural stone, brick, composite plastics, slate, rubber, wood, terrazzo and concrete. Of these, wood, terrazzo and concrete have remained the most popular.
Wood pavers are usually made from a South American species called IPE, which is almost indestructible. It is so dense that it is referred to as ironwood. Even though it will fade from its beautiful chocolate brown to a gray if not cared for annually, many choose it because of its natural beauty and strength.
Terrazzo is made by taking marble chips and mixing them with cement to form tiles or pavers. This method was invented as a way to make use of leftover marble chips. Like concrete, it has the flexibility to be formed into many patterns.
Concrete is by far the most popular paver — and for good reasons:
It is stronger than most other materials.
It can be molded into almost any shape.
Color can be added for a custom look.
The surface can be modified with stone, pebbles or stamped with a pattern to imitate another product.
It is extremely affordable compared with most options.
It is recyclable.
Wausau Tile: An Innovator in the Landscaping Pavers Industry
Your clients want options, and we at Wausau Tile have been making concrete and terrazzo pavers for over 60 years. What makes our selection unique is the broad applications our pavers have found in the building materials industry. Why are our products so popular?
Our four-color mixing allows one-of-a-kind gradients and complete creative control to create color palettes.
Over 73 molds (H-Series) and 74 unique combinations of sizes and thicknesses (V-series) are available, allowing us to meet the demands of every project.
Custom colors and sizes can be created.
Multiple finishes available to achieve your design intent .
Our self-spacing lugs save time and money on installation.
Why Do Some Pavers Fall Apart?
H-Series: This series is ideal for any paving project, with an industry-leading strength of 9,500 psi and thicknesses ranging from 1 5/8 to 4 inches. They come in 73 distinct molds and various colors and styles to choose from. Stand shapes are square, rectangle, planks and geometrics.
V-Series: The 8,000 psi strength, V-series Paver comes in 20 different molds and offers over 74 distinct mixing of widths and thicknesses. It's ideal for any paving project because it is available in a range of 1 ¾-inch to 3-inch thicknesses.
Thin Series: For more standard applications, the Thin Series provides a 1-inch thick tile in square and rectangular profiles with multiple colors.
Permeable Pavers: Permeable pavers permit water to leach through the pavement joints. This creates runoff by filtering rainwater through the joints into the ground or a holding pond. Permeable pavers are as strong and reliable as our other concrete pavers, and they are available in several V-Series and H-Series color options.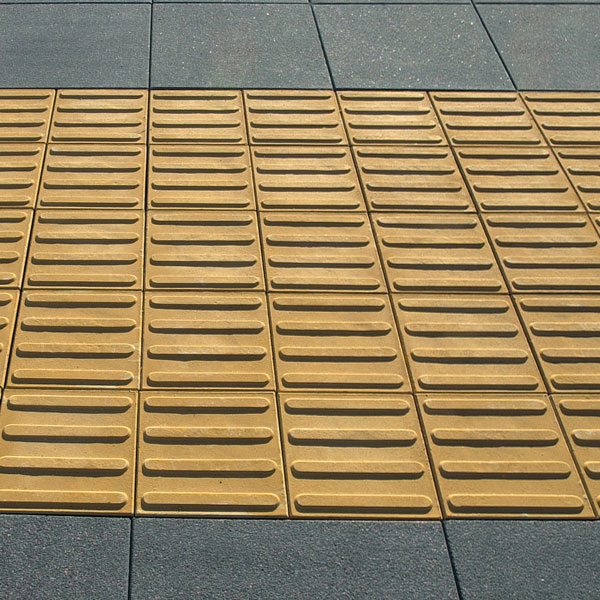 Directional and Tactile Pavers
Also known as detectable warning ADA pavers, these are necessary in any location where a pedestrian crossing is linked to the vehicle roadway without a railing or barrier. Under the ADA or Americans with Disabilities Act of 1991, these pavers must be placed at key common junctions of motor vehicle and pedestrian movement, as well as certain other hazardous locations.
We offer four different designs and twelve colors to choose from. In addition, our pavers are available with a flat finish if needed.
Wausau Tile — Your #1 Source for Pavers and Paver Systems
Proudly, Wausau Tile has emerged as the major manufacturer and supplier of architectural concrete, terrazzo and metal products over the last six decades. We were among the first American producers of cementitious terrazzo tiles and one of the first domestic manufacturers of hydraulically pressed concrete pavers.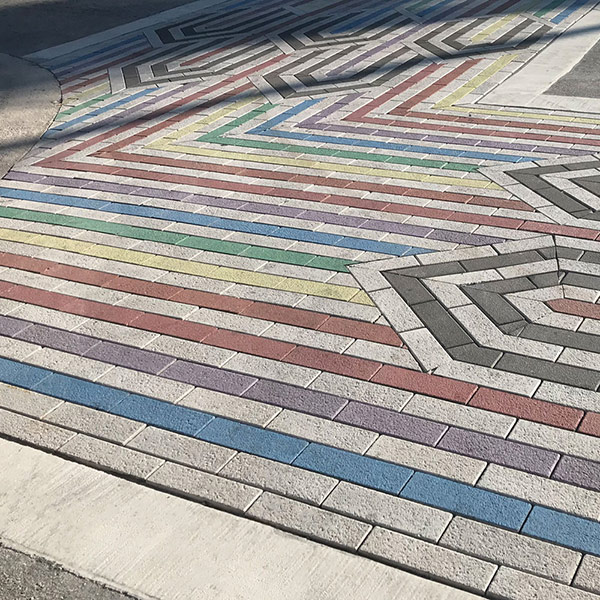 Today, we are an innovator in creative and sustainable manufacturing practices that employ recycled materials and green technology, and our items can be found in almost every neighborhood in America. Contact us today to locate a representative near you.