How to Build a Rooftop Deck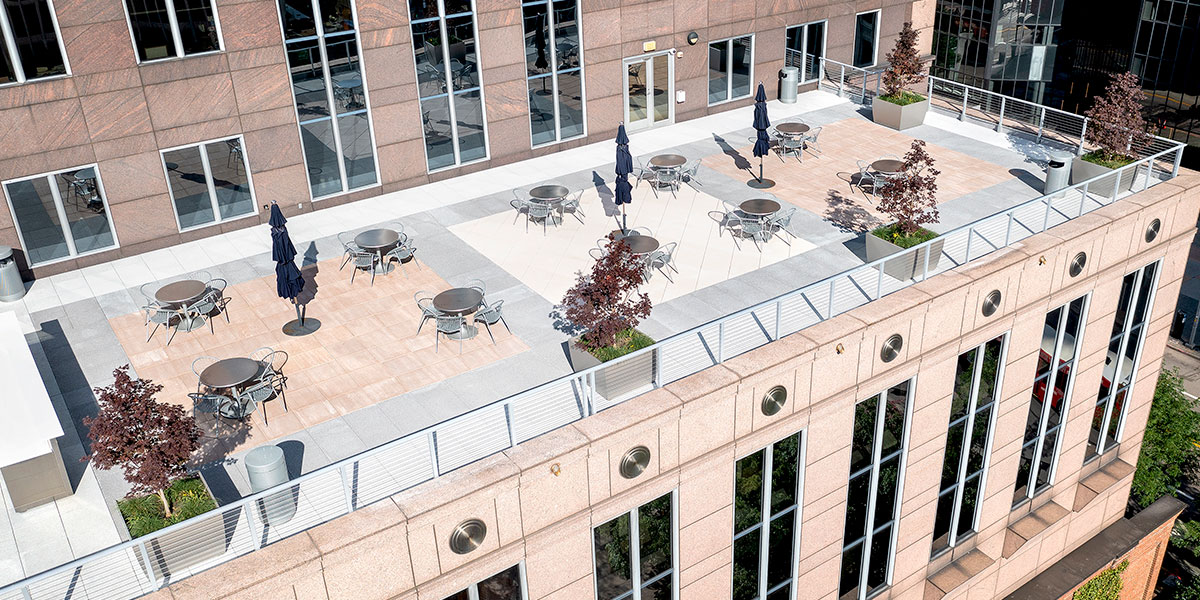 Roof deck systems are a great way to add extra living space to your client's commercial property. They can be used for many different purposes, such as a patio, entertainment area or even a garden.
Roof decks are also a great way to increase the revenue of your property and increase overall building use.
In this article, we will discuss the basics of how to build a rooftop deck and the best system to use for ease of installation and long-term customer satisfaction.
What is a Rooftop Deck?
A rooftop deck is a recreational area built over the existing flat roof of a house or business. Access to this area can be provided by modifying an opening in the roof, as in the case of a condo or apartment complex or by adding a door unit through a roof-level wall.
Your typical deck is loosely laid using pedestals to support the pavers. Leaving room under the pavers for cables, wires, and ducting while protecting the waterproof membrane. It also allows you access to the roof in case you need to make untimely repairs.
Installation of a Rooftop Deck
Permits and Permission
To get started, you need to make sure there are no restrictions imposed by the county or city ordinances, especially if you are building in a historic district. Usually, zoning ordinances want to be sure that the rooftop deck can't be seen from the street, which may affect the value of nearby properties.
The inspectors may require engineering approval showing that your existing roof can handle the new weight load to be added to the structure. Your typical 2" thick paver will weigh roughly 25.25 pounds per square foot plus the weight of the accessories.
Choosing the Best Roof Deck Pedestal System
The best pedestals are tested and have a proven track record of success. Our Terra System One pedestal has been used all over the country from personal residential applications to projects like The Aloft Hotel in Newport, RI and Mission Rock Building G in San Francisco, CA.
Safety
One of the greatest risk factors associated with a roof deck is wind damage. At Wausau Tile, we offer two types of deck pedestal systems that are designed for ease of construction and maximum safety for the property owner and tenants.
The danger is not just in deck tiles coming loose, but under strong wind conditions, concrete deck tiles weighing as much as 100 pounds can be pulled from the roof and thrown to the street below. This hazard must be avoided at all costs and our Lok-Down pedestal systems are built with this protection in mind.
Ease of Installation
The best system will not require a mechanical connection between the rooftop deck and the main roof structure.
We offer two systems that meet that criteria: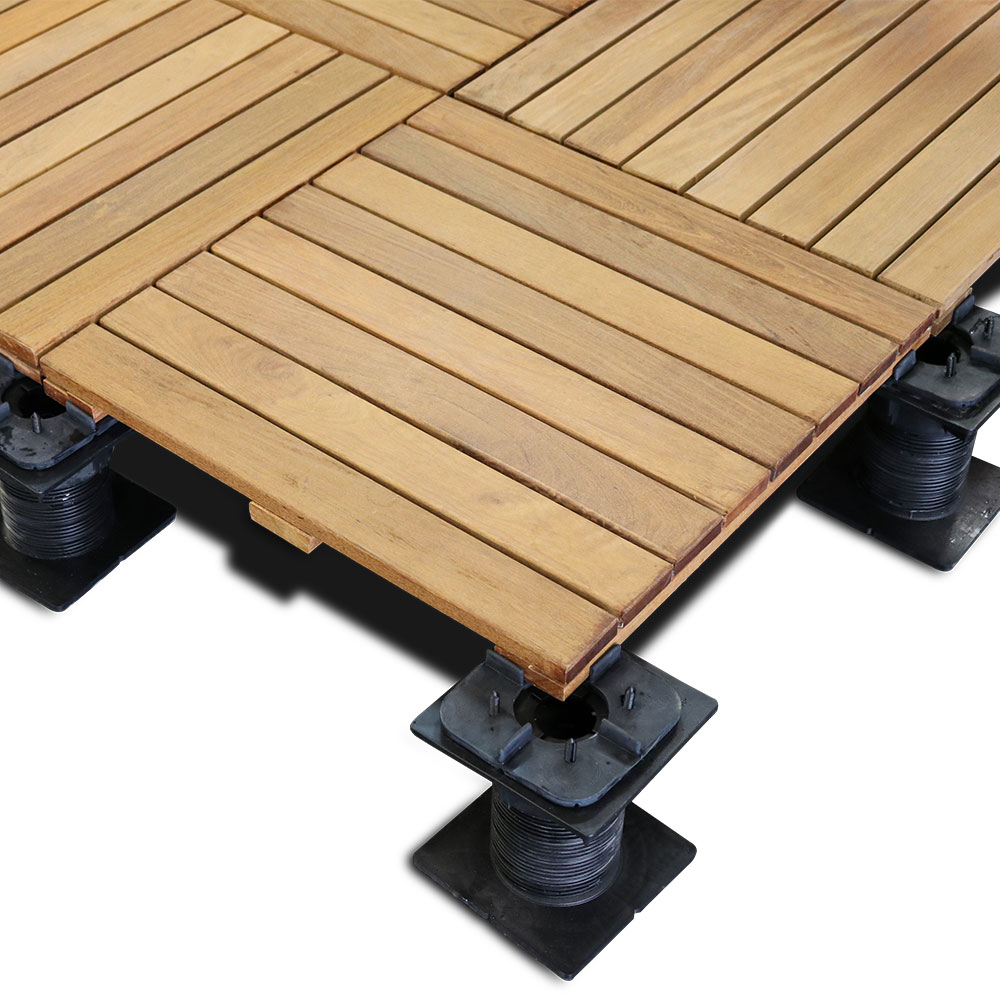 Lok-Down System for Wind Uplift
Tested to withstand winds over 145 miles per hour, the Lok-Down System for Wind Uplift utilizes the proprietary Terra System One pedestal system to provide a secure base to hold the deck tiles in place. A Lok-Down mechanism is installed where the corners meet to precisely align the tiles while holding them together in order to produce a raft effect.
Hidden Lok-Down System for Wind Uplift
Designed to secure roof tiles down when winds produce 240 pounds of uplift pressure, the Hidden Lok-Down System also uses the Terra System One pedestal but holds and aligns the tile through a system of fasteners that produce a seamless installation while allowing for individual tiles to be easily removed and reinstalled when maintenance is required. Adhering the pedestals to the roof deck will be required anytime you have wind uplift pressures greater than 90 pounds per square foot.
Roof Deck Systems Without Lok-Down
If your particular project doesn't require protection from 90+ pounds per square foot uplift pressures, then consider our grid system that allows nearly unlimited design options utilizing different sizes and colors of pavers. The grid is made from fire-resistant fiberglass and will hold up to 550 pounds per square foot
You also have the option of installing the larger pavers directly on the Terra-Stands without locking them down because their weight will hold them in place
Installing a Lok-Down Roof Deck Pedestal System
Layout the Terra Stands
The components have a base that is an adjustable center module that extends up and down and leans to accommodate the angle. Using our systems, you have the flexibility to work with a difference in elevation of 3" to 21 ½". Our system also compensates for 5/8" per foot rise in slope creating a level deck and allowing for drainage.
The stands are capped with a plate and Terra Tab that holds the washer and bolt that secures the pavers to the stand and to each other. The Terra-Stands should be adjusted for slope angle prior to installing the top. Use a long straight edge such as a steel stud to establish level across a wide area and adjust each stand accordingly.
Install the Pavers
With over 70 different molds you are free to pick your paver size and the sizing of the paver will affect the paver thickness with the minimum being 2" thick.
There are also multiple options for surface texture and colors. If you prefer the look of natural wood, we also offer an IPE wood paver.
Installation should begin in the middle of the roof and work toward the edges. The edge pieces will be cut to size. Lay out the first row of pavers and make the minor adjustments necessary to level the surface. Continue setting tile until the wall is reached. Use approved flashing and sealants to waterproof the connection between the wall and deck system.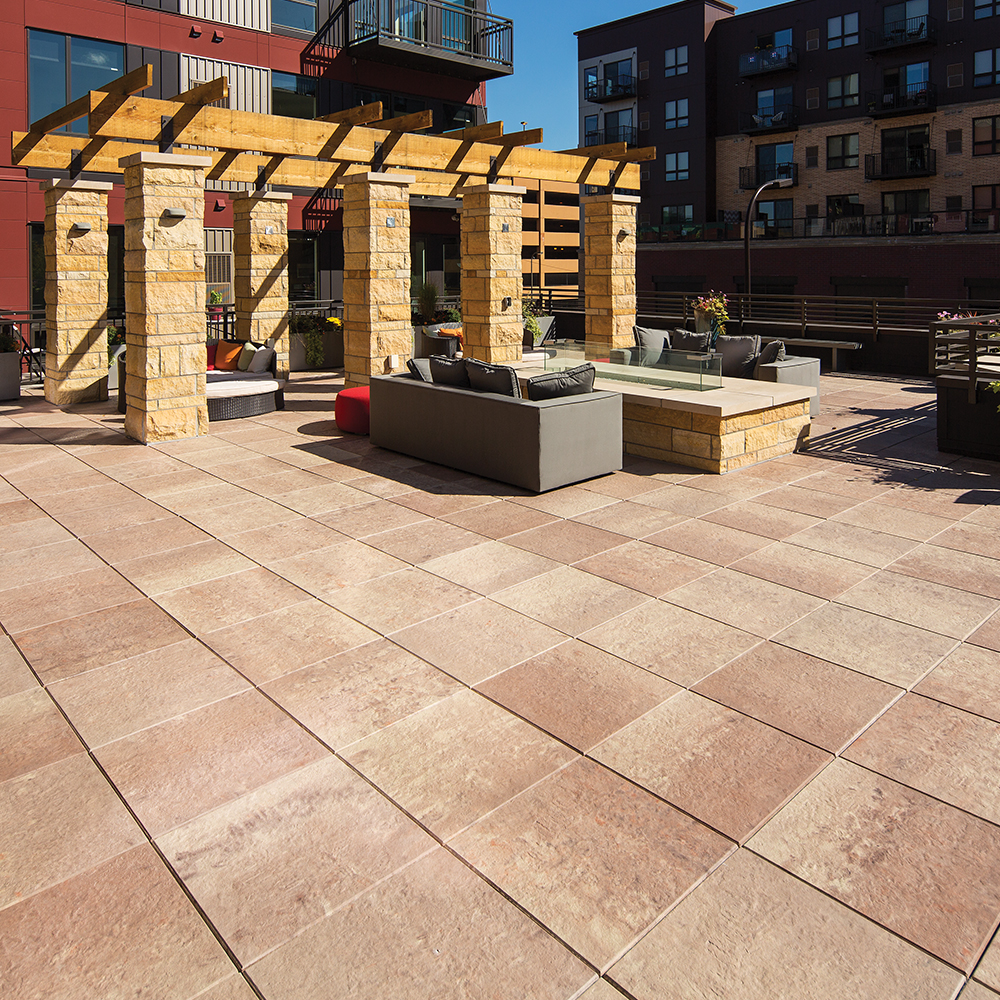 Wausau Tile is the Leader in Rooftop Deck Systems
For more than 60 years, our team at Wausau Tile has been dedicated to quality, value and American craftsmanship. We're more than simply a manufacturer of top architectural products — we're a team that works together with you every step of the way.
Terra System One is our roof deck pedestal system that helps navigate the challenges of a pitched surface by providing a level surface for installation. Contact us today to locate a representative near you.