Wausau Tile has created the industry's strongest, longest-lasting architectural pavers that give architects and designers unmatched creative control.
Our state-of-the-art process uses more than 650 tons of compressive strength to forge a precisely engineered two-part mix into singular, 9,500 PSI-rated pavers that outperform the competition – in strength, durability, resistance to freeze-thaw damage, and aesthetics.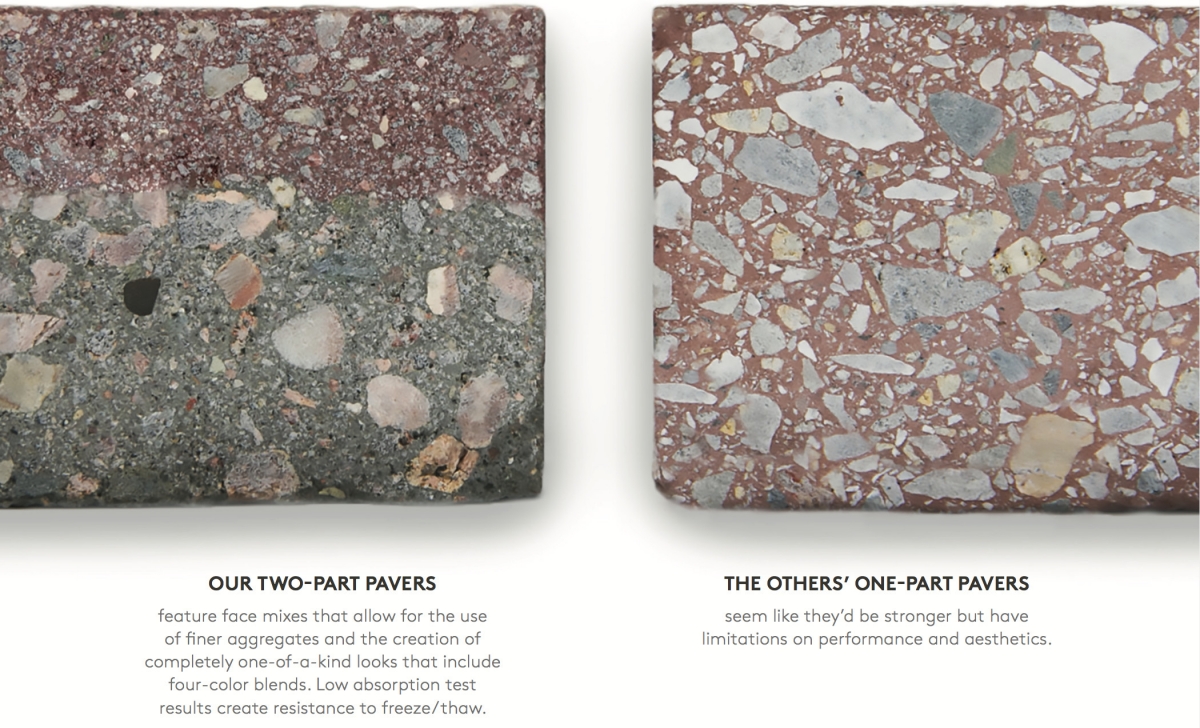 This all happens in our cutting-edge 100,000-square foot paver manufacturing facility, which gives our customers greater color, size and custom capabilities. Simply put: if you can dream it, we can do it. Wausau Tile's high-quality concrete pavers are made stronger, delivered and installed more efficiently, and crafted to bring any vision to life.
What makes Wausau Tile's pavers superior to the competition? For starters:
9,500 PSI rating: Our pavers are consistently stronger and more durable, which gives you peace of mind and greater flexibility – letting your pavers do more hard work with less material (including H-20 and HS-20 loading capabilities for both light and heavyweight vehicular traffic).
Unique four-color blending technology: Architects and designers take the reins of the color customization process and personally oversee the aggregate and dye mixing of their desired pavers inside the Wausau Tile facility.
Complete creative control: In addition to our four-color blending process for one-of-a-kind gradients, we offer endless custom color options, and an exclusive standard palette, with an extensive array of styles, finishes and surface textures – all on display in our massive sample library.
More size and shape flexibility: Our pavers are available in more than 60 standard sizes, with large profiles, a variety of thicknesses that uphold industry-leading strength and performance standards, and an amazing range of custom options.
Installation expertise: Self-spacing lugs are available for every paver to cut installation time and cost, and our team is deeply knowledgeable about all paver installation methods.
Proprietary Lok-Down system for wind uplift resistance: Our rooftop pedestal system is tested to withstand uplift forces from winds of up to 145 miles per hour, and backed by rigorous hurricane-condition testing at Florida International University's Wall of Wind and Western University's WindEEE Dome to give you the confidence to make the most of any rooftop space, no matter how high.
View our incredible portfolio of paver styles, and contact us to learn more about how we can bring your vision to life. Be sure to check back regularly for updates on all of the new styles, colors and options our new paving facility makes possible. And while you're here, take a quick peek inside the new facility with this video: