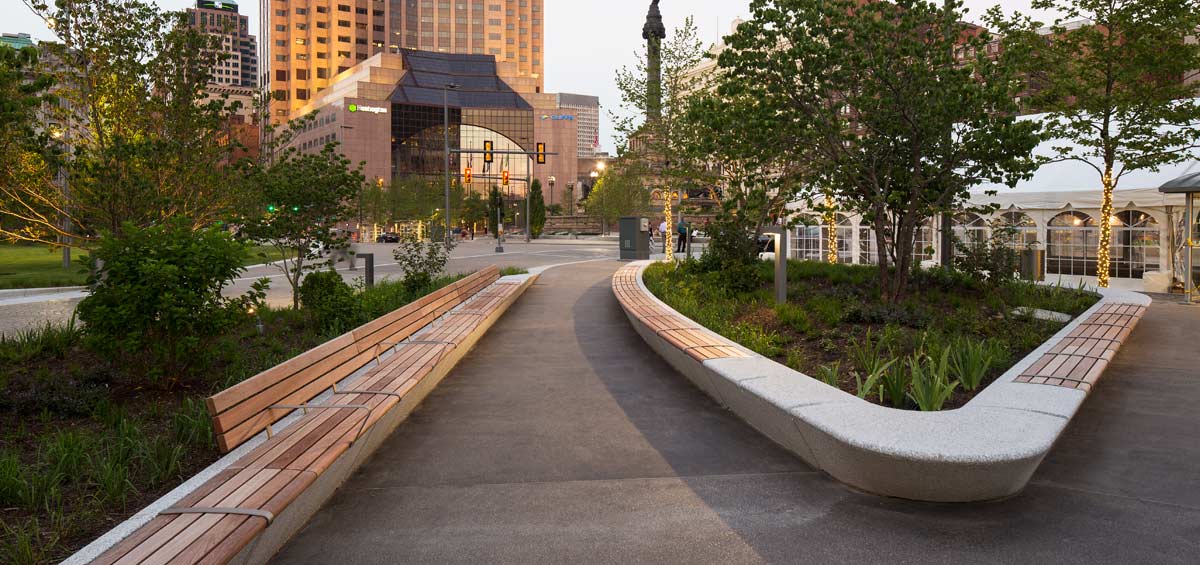 Cleveland Public Square, the four-block central plaza at the heart of downtown Cleveland, Ohio, was long neglected despite housing some of the city's most treasured historic landmarks. Now, the reimagined space has been awarded as the "Best Custom Solution" by the Precast Concrete Institute Design Awards – and is continuing to set the bar for civic engineering projects far and wide.
The design challenge called for a solution that would make the 10-acre space greener and more walkable for a fast-growing population of downtown dwellers. It would require reorganizing streets, overhauling major sections of land, and perhaps most critical, celebrating and enhancing the historic elements already in place. James Corner Field Operations had just the vision, but its team of landscape architects would be hard-pressed to pull it off with less than 15 months' lead time ahead of the 2016 Republican National Convention. They needed an adaptable manufacturer partner with the ability to take an enormously ambitious and abstract vision and make it a reality. So they turned to Wausau Tile.
Wausau Tile's custom precast concrete was used to frame the space with continuous, sinuous walls that reach as high as nine feet tall. The project required more than 800 custom molds to cast 1,200 individual pieces – some of which weighed nearly 20,000 pounds – and two million pounds of concrete in total.
"Drawing from decades of experience in creating some of the world's most complex custom concrete products, we approached Cleveland Public Square's unique challenge - and its massive scope - with excitement," says Justin Plunkett of Wausau Tile. "We collaborated with so many exceptional partners, including James Corner Field Operations, J3 Engineering, and many more to bring this groundbreaking project to life, and are thrilled to see the new space being widely recognized and enjoyed by so many people. "The Precast Concrete Institute Design Awards' panel of judges took things even further, saying, "the [custom precast concrete] product is going to be there forever… I don't know how this could ever become dated."
The dramatic project was completed on time ahead of the RNC and met with rave reviews from journalists, visitors and residents alike. But if the RNC was Cleveland Public Square's big debut, it's the park's future that is most exciting, promising a beautiful, diverse and progressive setting for all of Cleveland's current and future residents and visitors.